Beauty mishap: Eating fresh kimchi
Have you ever been convinced by a gorgeous-looking friend who tells you her beauty secret and you go straight home to try it? It happened to me.
I wouldn't say I'm gullible to the point that I would go to any lengths to get better skin and lose more weight. Pills — no. Starving — a firm no.
But, a few weeks ago, a girlfriend of mine in Tokyo was waxing lyrical about how natto (fermented soybeans) is great for skin and maintaining your weight.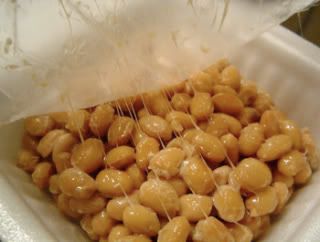 Natto in a styrofoam pack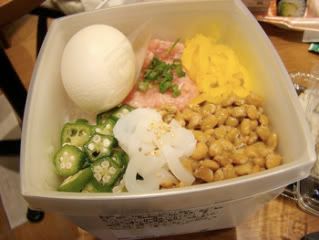 Natto with okra and squid
Packed full of protein, natto is eaten by many Japanese in the morning with white rice and miso soup. But some folks are more imaginative: some eat it with raw squid and okra (I was in Hokkaido when I encountered this scary, sticky concoction); some tuck into it with spring onions (scallions) and soy sauce; others on toast with melted cheese on top; and for my friend, she mixes it up with kimchi, a Korean beauty secret, and eats it with rice.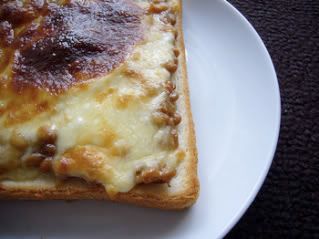 Natto on toast with melted cheese
My girlfriend also swore that this nutritious meal keeps her going for as long as six hours and has no need to snack before her next meal. Low in calories and helps you not be hungry — wow, I've got to try this! I thought to myself.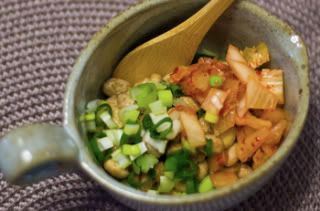 Natto with kimchi
But natto is not for the faint-hearted. It's pungent and slimy and even some Japanese people dislike it. It's one of those things you either love or hate.
And I wanted to love it very badly. I had been doing some research on fermented foods and it seems they are great for keeping your intestines happy and your digestive system will rev better, which means better overall health and skin.
The Japanese and Koreans must be onto something — many of them have gorgeous, smooth skin and svelte figures. But I believe that there must be more behind just sheer genetic luck.
I set about making my own kimchi because I didn't like store-bought kimchi that is loaded with preservatives and fish sauce. After watching this video, I ran out of the house to buy all the ingredients. It was so easy to make.
I knew I had to wait for the kimchi to ferment for a few days, but by the second day, I was impatient for magic to happen on my skin, so I ate it straight from the bottle with natto on brown rice.
Did I like it? To be honest, it made me want to gag less than the squid and okra version I had. I told myself fervently, "This is for good skin. This is for good skin."
Unfortunately, I suffered a bad headache a couple of hours after and retired early. In the middle of the night, I had to rush to the toilet. Oh noooooo, was it the kimchi? I asked myself. It certainly was because the boyfriend had none and he was fine. I jumped onto Google, and of course, I found out it's "dangerous" to ingest fermenting kimchi but it's okay to eat it after it has been fermented.
Lesson learned: ferment your kimchi for four whole days, then refrigerate for a day, and it's ready to eat.
Now, I want to know: what's your extreme beauty mishap?
Photo credit: here, here, here, & here
No related posts.