DIY Salt Sheet Mask For Inflamed Or Acne-Prone Skin
Wow, I'm really enjoying our discussions at our Beauty Debate corner. I feel like I'm learning a lot from my readers and I'm just loving going through all your comments. I'm definitely looking forward to the next one…
Until then, here's a DIY Solutions post today…
I became a convert in using salt in my beauty regimen when my homemade coconut oil salt scrub helped my acne-prone skin. But I would like to mention that I only use this on my body and not my face as coconut oil is a little intimidating for my sensitive, oily skin.
Back in Oct when I had rashes on my face due to using sheet masks, my mother advised me to pat salt water on my face, because nothing seemed to work, not even aloe vera gel. My mum said that she would pat salt water on our skin when we had rashes as babies so she remembered to tell me this when I moaned to her about my rashes.
For four days, the rash persisted but on the last two days, I used a sheet mask soaked with salt water on each night and the rashes looked less red and angry the next morning. I still use this salt mask occasionally when I feel like my skin is breaking out or has clogged pores.
What I love in Japanese drugstores are the plain sheet masks you can buy and you can soak them in any solution you like. In fact, you can make the best out of your hydrating lotion as sheet masks seem help the skin absorb more lotion as opposed to just slapping the lotion onto your skin, especially if your lotion is very watery.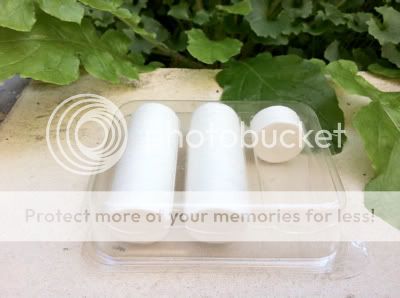 I like this brand of plain sheet masks from Kanebo because of the way it is stored — it has a cover for the sheet masks so it's very hygienic and can keep for a long time. The only thing I don't quite like about this brand is that the sheet masks tend to leave "wrinkles" behind. The texture of the sheet mask, like textured paper I suppose, leaves marks on my skin but it's no big deal as they go away quite quickly, much like sleep marks in the morning.
I used my trusty stash of pink rock salt which I diluted with filtered water. I didn't boil the concoction because I think the salt can be dissolved easily if you stir it in water.
Basically, I just placed one sheet mask tablet into the bowl of salt water, let it soak for a few seconds, and it would expand. Then, I just carefully unwrap it and place it on my face for 10-15 minutes. I have tried putting this mask on for 30 minutes but I found it to be a little drying so I think a shorter time period is more suitable for my needs.
In short, I would use this mask if I have rashes or acne on my face which is about every two weeks. I think it's a gentle way to help acne-prone skin that is sensitive to harsh acne products which I generally try not to use, besides spot treatments. Since my skin is so sensitive, I have even stopped using clay masks for now and am trying my best to just let my skin heal. I think I might do a more in-depth post on my updated skincare routine.
I was such a sheet mask demon for the most part of the year but maybe I overdid it and my skin couldn't take the overload. I feel a little sad because I have a huge stash of sheet masks which I'm still twiddling my thumbs over what to do with them.
Have you tried salt as a beauty treatment? Do you like to make your own sheet masks or do you prefer ready-made ones?
-
"Like" us on Facebook or follow us on Twitter or subscribe to our RSS feed or Youtube to get the very latest updates, giveaways, and promotions.
No related posts.