I've posted about green smoothies being great for the skin and today I will touch on green juice. Some people might just assume green juice means wheatgrass or barley green juice, which taste too hardcore for those who don't embrace an extremely healthy lifestyle, but there is a lot more to it and can be palatable to most people (I will suggest some "beginner" recipes later on in this post).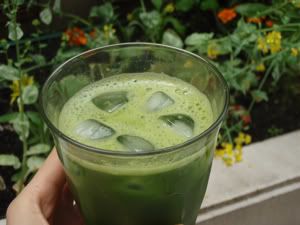 Green juice vs. green smoothie
The difference between a juice and a smoothie is that for the juice, you strain the juice away from the pulp (with a cheesecloth or nut milk bag), or if you use a motorized juicer, you don't get any of the fiber either.
I used to think there was no real difference between the two but there is a significant one and it keeps me juicing on most days. What I am about to say is not scientific proof nor am I a doctor or nutritionist, I will just talk about my experience with green juice.
This recent addition to my diet has helped my body to detox and my skin to glow. My energy levels are peppy and I just feel light, happy, and radiant. Green smoothies are great for health and beauty, too, but I find the effects of green juice emerge faster than smoothies.
YUCK, why would I drink green juice?
The nutrients of green juice hit the bloodstream more immediately than a green smoothie. The fiber in green smoothies slows down the digestion of its vitamins and minerals and is less taxing on your insulin. Green juice can be chock full of fructose if you juice fruit with veggies as well, so your insulin has to work harder to process it.
I don't know if there is a magic number that says what is enough or too much green juice so all I know is it's not healthy to be extreme in anything and you should just tune into your body to listen to what it needs. Let me give an example or two on how to "tune in".
If I feel tired, I will drink a green juice in the morning. If I see my skin looking sallow or has pimples, I will also juice, or if I had an indulgent night out, I will juice the next morning. When I am down with flu, I will juice.
Basically, these are situations where I think my body needs some extra help to get rid of toxins and free radicals that damage my well-being. I tend to get a natural flush to my cheeks and a lovely lightness of being after downing a few cups of green juice.
Some people do assume that green juice tastes medicinal or even some unimaginable swampy concoction not fit for human consumption. Let me tell you right now it's not. It can taste as lovely as a fruit juice and it's even better for you.
Green juice recipes for beginners
Here are some recipes for delicious green juice that won't make your skin crawl. You don't need to make a special trip to the health food store because you will probably find most of these ingredients in your kitchen already.
You can start with just a few stalks of greens and add more when you are more comfortable with the taste.
"Newbie":
1 bunch spinach
1 carrot
½ lemon
1 apple
1 tiny slice ginger
"Loving it a bit":
1 bunch spinach
1 celery stalk
1 orange
1 tiny slice ginger
½ lemon
"Rolling with it":
1 bunch spinach
3 stalks coriander
½ pink grapefruit
1 apple
2 tiny slices ginger
½ lemon
¼ broccoli head
1 cucumber
You don't have to stick to any one recipe once you get comfortable with making green juice and can in fact get really imaginative. A few basic rules to remember:
1. Combine a sweet fruit with a dark green vegetable.
2. Lemon will always give a refreshing taste.
3. Add ice.
Bottoms up!