July Empties
Hi my loves, yet another empties post today! Ever since I stopped travelling, I've been on a bent to finish up as many beauty products as possible. With the travelling, I bought daily essentials on the road because it helped to free up space in my luggage (I had a use-and-toss policy), but that meant the products at home were still unfinished. I've had the same bottles of shampoo and conditioner in my shower for almost six months now but I'm slowly but surely working my way through them.
I suppose the beauty junkie in me also just rejoices in the sheer satisfaction of using up products period. If they were great, they would've been a good discovery, or if they were so-so, I would know not to re-purchase them. And finished products means opening NEW products – yay!
To feel such glee sounds a little sad but I think my fellow beauty fanatics would know exactly what I mean, plus I don't have a lot going on right now. Being heavily pregnant, I'm pampering myself to the max because I keep hearing that when the baby is born, I would feel lucky to be able to squeeze in a daily shower *sad trombone*…So I'm relishing while I can before the chaos slams into me in October.
Body Care: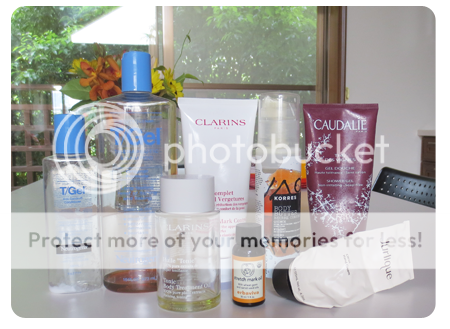 From left to right:
Neutrogena T/Gel® Therapeutic Shampoo & Conditioner (smaller bottle is the conditioner) has solved my oily scalp issues. I know this T/Gel range aims at getting rid of dandruff but if you have a persistently oily scalp, you might just be suffering from dandruff that doesn't flake off (as opposed to dry scalp dandruff that does flake off) and what you feel is just a lot of grease and build up. Anyway, after using this twice a week for about six months, I only now use this once a week and I'm able to wash my hair every other day and on the days my hair is not washed, it doesn't feel oily. This system has helped me get away from washing my hair daily and I will definitely do a separate post on these two products.
Clarins Stretch Mark Control (tube) was a dud as it made my tummy itch but the Tonic Body Treatment Oil was a dream to use (smelled lovely and kept my stomach and butt well-moisturized) but it's expensive. I had vouchers to spend so I splurged on trying these products out but I will not repurchase them.
Erbaviva Stretch Mark Oil was part of sample set that was gifted to me and this had wheatgerm and carrot seed oil. It is sold in Japan so that's a bonus and it had a very subtle scent so folks who don't like fragrance would take to this quite well. It was a rich oil that spread very easily but also sank into the skin immediately.
Korres Fig Body Butter was great while it lasted. It's a little too heavy and sweet-smelling for summer but I tend to shower at night anyway so it protected my skin while sleeping in an a/c room. The sad thing is that the store near my house stopped carrying Korres products. I know I could order Korres online but I've been using this brand for years and I think it's time to try other brands.
Caudalie Thé Des Vignes Shower Gel was such a treat to use that I got the eau fraiche perfume version. Click on the link to read my review.
Jurlique Hand Cream Lemon took forever to finish but it is my HG hand cream and I definitely stocked up while I was in Sydney. It is not greasy, moisturizes well, and smells divine. I keep a full sized tube next to my futon at night and tote around a travel-sized one in my hand bag all the time.
Skincare:
Source Naturals Skin Eternal DMAE Serum reminded me exactly of the Hyaluronic Serum – smelled and worked the same but their ingredients are just slightly different in that the DMAE serum had collagen essence. I discovered this brand three years ago and it is a "cheap but good" natural serum that really works. It makes your skin look very shiny and has a sickly sweet scent but once you get over it, you will wake up with radiant smooth skin the next morning. My skin always feels so hydrated and refined when I use it. The only downside is that I have to buy it from the US.
Josie Maran Argan Cleansing Oil was great while it lasted. I can always trust that it would remove all traces of eye makeup without stressing my skin. Click on the link for a more in-depth review.
Astalift Destiny Essence and Jelly Aquarysta served me well as serums (review here). I might re-purchase them down the road but I have a few serums in my stash that I want to try.
Discards/Expired Items:
Too Faced Shadow Insurance has some product left but it has reached that icky stage where the cream oozes out with clear liquid. The product has separated and no matter how much I shake it, it won't combine — out it goes. It works better than the Urban Decay Primer Potion and has a creamier texture.
Biore UV Aqua Rich Watery Mousse SPF 50 PA+++ works in "extreme" conditions – hot, humid, or even wet situations. It is a veritable work horse but it is quite hard to remove from the skin and is quite drying. I know many beauty bloggers love this product but it's not really for me. I decided to bin it even though it has maybe 20% left.
Revlon Lip Butter Candy Apple melted off in this horrible Tokyo heat. I can't brag that I finished it but I had about 2cm left when it broke off. It couldn't apply properly and has a tiny bit left that could be saved by using a lip brush but it's too troublesome so I will toss it out. The melty consistency makes me feel like it is not "fresh" so I prefer to throw it out. I have a YSL Glossy Stain that is a dead ringer for this shade so I'm not sad to lose it.
Canmake Powder Eyebrow was a dud – too powdery and dark, which made my brows look unnatural, so I decided to toss it out. I much prefer my Anastasia eyebrow palette.
If you have reached the end of this post – THANK YOU! I love reading empties posts and I blog about my empties more for myself than anything else. I like to see that my beauty junkie ways are not wasteful — I do use them up or give them a fair go before throwing them away.
Do you like reading about empties?
PS: Ooo, it's Singapore's National Day today – happy birthday to my country!
No related posts.