Meeting A Fellow Blogger In NYC + Haul Pix
Hi my lovelies, did you have a good weekend? I know I did. Saturday was course day and then Sunday was spent playing tourist with Mr BB — we watched Jersey Boys and poked around a Williamsburg flea market just for fun. We also walked all over Manhattan and finally wrapped the day up with delicious Indian takeout.
Another highlight of my trip so far was that I met up with fellow blogger, Olivia aka Cutie Fishball (do check out her blog, especially if you love Japanese cosmetics), who was in NYC for the day with her hubby. We had lunch together at Radiance Tea, a lovely oasis in the Midtown area, that serves a smorgasbord of tea and Asian dishes. We were so busy chatting that I forgot to take a photo of us together but being the foodie that I am, I didn't forget to snap quick photos of my food – lol!
Delicious springy shrimp dumplings that were absolutely delicious.
And a green salad with walnuts to add a touch of healthiness to my lunch.
We had a great time chatting, and before we knew it, Olivia had to leave with her husband to go to another appointment. Since I'll be in NYC for several weeks more, she said they might drive up to NYC for another visit since they have friends and family here. I feel so lucky to be able to make friends with other beauty bloggers in person because I love connecting with like-minded people…
Before we met, we decided that it was too much of a rush to do a proper swap but Olivia surprised me with a huge box of beauty goodies. Seriously, it was such a beautiful coffret of cosmetics and skincare — Cutie Fishball, you know I'm going to bomb your mailbox with Japanese products once I get back to Tokyo!
Let me show you what her pressie was like…
She included a cute origami note with a sweet message…
Oh my goodness me! I was bowled over by the contents…I won't go through each and every item because there were so many so I'll pick out the bigger ticket items to show you…
Too Faced Glamour To Go Palette is the tiniest travel palette ever for eyes, cheeks, and lips. I would totally pack this for a weekend getaway.
Just wow…All the colours suit me…
Dior Addict in Blush is a gorgeous dusky pink shade that is something I would absolutely have picked out for myself. We realized we have pretty similar skin tone so whatever would suit her would probably be fitting for me as well…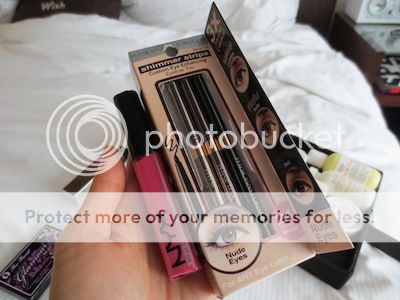 A NYX Mega Shine Lip Gloss in Tea Rose (I'm a huge fan of NYX lip glosses) and Physicians Formula Shimmer Strips Eyeliner Trio (neutrals and black).
And if one palette wasn't enough, she included another one — NYX Nude On Nude eyeshadow and lip palette.
20 neutral eyeshadows and 10 lip shades…This reminds me of Naked 1 & 2 (I adore both) rolled into one. Now this would fulfill your makeup needs for a loooong trip — no need to pack other eyeshadows or lipsticks!
A whole host of samples, which I will try on this trip, in case I find some gems and would like to load up on the full-sized version. She also popped in deluxe samples from Kiehl's, Prescriptives, and fresh which would be perfect for a possible upcoming side trip I'll take with my husband (not in the US but will let you know once it firms up) since I've already used up pretty much all my travel-friendly skincare items in Montreal and SF recently.
I don't know what I did to deserve being spoiled by a fellow blogger like this, but thank you so much Olivia, for making my NYC trip a little bit more special.
-
"Like" us on Facebook or follow us on Twitter or subscribe to our RSS feed or Youtube to get the very latest updates, giveaways, and promotions.
No related posts.